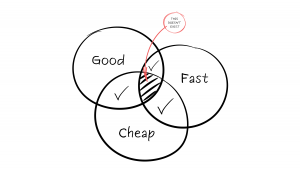 As a marketer, there's constant pressure to deliver great content. Effective content that looks good, costs nothing, and goes viral every week to every audience segment you've got, right? The problem is, this is the real world, and you have to work within budgets and meet deadlines. So here's the puzzle: you can only choose two out of the three key elements in making a piece of content: make it good, make it fast, and make it cheap.
Let's break it down:
If you want to prioritize quality (we're a fan of this prioritization) and make a good video, you'll need to invest in high-quality equipment, hire experienced professionals (quick glance to the Near Future team waving adorably from the other side of the room) and spend time on post-production. Your video will be top-notch, with crisp visuals, smooth transitions, and a clear message. But it will also cost you a pretty penny (a reasonable and fair amount, if you work with us…) or might take longer than three days to produce.
If you need to prioritize fast, and churn out something ASAP, you might need to cut some corners. Maybe you sacrifice and use lower-quality equipment, work with less experienced professionals, or skip some steps in post-production. Your video will be finished quickly, but it may not be as polished or effective as you'd like. ORRR, the help-quick-we-need-this-now nature of your job might come at a bit of a premium in terms of money. But hey, at least you'll have something to show your boss, right?
And if it was your grumpy CFO that asked you to make this video, and you need it on the cheap… well, sure, you can do that. You'll need to use low-end equipment, work with less experienced professionals, and edit it yourself, maybe… (um, do you know how to do that?) That's ok, you have time to learn, right? Because this doesn't necessarily need to be done quickly or anything, just cheap. Your video will be affordable, but it may not be as effective or professional-looking. But hey, who needs quality when you have a video that was made for pennies – maybe it'll blow up on TikTok?
No matter which two you choose, authenticity and effectiveness are paramount. After all, a video that's not effective is a waste of time and money, no matter how good, fast, or cheap it is. When we're sitting down to concept for new clients or projects, this is our priority. We believe that something can look good AND perform well at the same time. How can we weave in key value propositions in an authentic way? How can our story connect with the community on an emotional level but also help them learn something new about a product or brand? Our goal is to raise awareness and gently nudge someone to act, while making a healthy deposit into the brand bank.
How it works, when you work with us: We start with a brief and creative discussions with your team. Then we share three to five unique concepts, choose the best one, and create a script, treatment, and storyboards. We quarterback the process to deliver a beautiful, on-brand final product on your schedule. The typical timeline is 8-12 weeks, but we're experts at working under tight deadlines. Let's tell your story and make some magic happen! Shoot us an email anytime, or check out some of the fantastic work we've done here.